Scott Sigler Bibliography Maker
Summary Bibliography: Scott Sigler
You are not logged in. If you create a free account and sign in, you will be able to customize what is displayed.
Author: Scott Sigler Author Record # 37119
Legal Name: Sigler, Scott Carl
Birthplace: Cheboygan, Michigan, USA
Birthdate: 30 November 1969
Language: English
Webpages:scottsigler.com, SFE3, Wikipedia-EN
Author Tags:young-adult sf (9), space opera (6), science fiction (5), alien invasion (4), thriller (3), horror (3), aliens (2), child protagonist (2), memory (2), near future (1), paranormal mystery (1), zombies (1)
Image supplied by Amazon.com
Showing all translations. Registered users can choose which translations are shown.
Fiction SeriesNovelsChapbooksShort Fiction SeriesShort FictionEssaysInterviews with This Author
Copyright (c) 1995-2016 Al von Ruff.
ISFDB Engine - Version 4.00 (04/24/06)
Here it comes, the third annual Pinecone Awards, and the first in a (nearly) full year without America. But that's a subject for another day. Today, we celebrate my favorites of the year, and damn, was this a good year for the creative types of the world or what? Though there's a few surprises - like, one of my all-time favorite shows,
The Flash,
slipped out of the rankings entirely this year, and its sister show
Supergirl,
whom I fully expected to take its place, fell victim to a similar third-season curse of excessive grimdarkness and crashing a fine, fine ship in favor of one that repels most viewers - most of this year's final rankings are about in line with what I expected.
And this year, as the third time being the charm, I'm going to introduce, in addition to the Honorable Mentions, some Special Salutes for faves of mine that, in some way, really broke my system. Call them Zeroth Place, even though I'm going to list them
before
the Top 5's.
Ready, Pinecones? Let's press on.
BOOKSHonorable Mentions:
* Cassandra Clare, Lord of Shadows* Clay Griffiths and Susan Griffiths, Arrow: A Generation of Vipers* Marissa Meyer, Renegades* Jomny Sun, everyone's a aliebn when ur a aliebn too* Jen Wilde, Queens of Geek
Special Salute: Adam Silvera, History Is All You Left Me and They Both Die At The End

Adam Silvera never fails, as far as I'm concerned, and in this calendar year he super-succeeded, giving us no less than two terrific novels in his signature style. Lightly speculative, unapologetically queer, loaded with laughs, loaded with cries, and of course loaded with glorious geekgasm moments. I've long thought Silvera was essentially the Latino version of me, and his two novels of 2017 do everything they can to suggest this particular headcanon of mine may, in fact, be real. It says a lot about Silvera's level of talent that
History Is All You Left Me
is my least favorite of his three novels so far, because that one's bloody damn good in its own right. And
They Both Die At The End?
That one has been known to fly off the shelves at the Stanford bookstore at my command, for good reason, spoilery title and all. I, for one, look forward to everything Silvera's got in the pipeline with great interest. Like his collab with Becky Albertalli,
What If It's Us.
But especially to his forthcoming first stab at the fantasy genre - which he promises will
not
be a defictionalized
Scorpius Hawthorne,
but if there's one thing I know for sure, it's that Silvera will for sure write the
Carry On
worth reading (I say having never even read
Carry On,
though if literary agents can compare my own manuscript to it, it can't be half bad, right?)
5. Angie Thomas, The Hate U Give
What can I say that hasn't been said before? By now, of course, everyone knows who the undisputable queen of YA is (undisputable, though not for lack of trying on the part of many a misguided soul.) On the surface, it's only too easy to describe
The Hate U Give
as "Black Lives Matter: The Novel," which isn't entirely inaccurate, but is pretty reductive even for me as a novice marketer. At work, I pitch this book starting with the inevitable BLM elements, but am always quick to add how much more there is to Angie Thomas' debut. Delivering both much-needed racial commentary and a not-inconsiderable appreciation of the little things in life (you'll never be able to unsee the interpretations Starr's family makes for
Harry Potter,
no you won't!), it's no wonder
The Hate U Give
dominated the
NYT
bestseller list as long as it did, and, as I remember, now holds the record for the longest time charting on the list, period. It's a standard of success which I don't see myself ever achieving, but will still strive for all the same. If you haven't read the book yet, read now before the movie (starring Amandla Stenberg as Starr!) hits theaters late next year.
"A HAIRBRUSH IS NOT A GUN!"
4. Victoria Aveyard, King's Cage
I've been a big fan of
Red Queen
from the beginning, and was especially enamored with
Glass Sword
when that book, as
Mockingjay
-esque as it was, drove away a lot of my friends from the fandom. The infamous cliffhanger (which made me coin the term "Aveyardian" for any such rage-inducing ending from now on) didn't help, of course. But with the third book in the series,
King's Cage,
Aveyard jumped up into the stratosphere with a novel so incredible it actually makes its predecessors pale in comparison. Though I've long pitched this series to friends as
The Hunger Games, X-Men,
and
Game of Thrones
having had a baby, it's this third book, with its massively improved world-building, multiple POVs (which help make this book one of the more diverse releases of 2017 too, adding a black POV and a lesbian POV not present in previous Aveyard novels), and continent-wide expanded scope, where the
Game of Thrones
comparison finally rings true. It's a rare book where there's so many hundreds of pages, and so much of it is fantasy-world politicking, but I'm there for it all - and especially for 2018's forthcoming finale,
War Storm
, with its promise of an epic, electric, two-tone bloodbath.
Rise, red as the dawn.
I'm still not over how much the Lakeland king resembles Alex Snow in both appearance and superpower, BTW.
3. Jason Reynolds, Miles Morales: Spider-Man
Spidey as a psychological thriller? Leave it to Reynolds, and he does it so well. My introduction to the character of Miles Morales, and my introduction to the work of Jason Reynolds, this short but sweet book doesn't really feature a lot of Miles doing whatever a spider can, but the psychological thriller elements (my initial review likened the Big Bad of this book, a pretty much original creation on Reynolds' part as far as I'm aware, to Mysterio by way of
Get Out
, and having finally seen
Get Out
since I read this book, I stand by this assessment), the bromantic dynamics between Miles and Ganke, Miles' family life getting lots of well-deserved attention, and even a few passages which I interpreted as Reynolds coding Miles as autistic, all combine to help this book earn my approval and then some. I sincerely hope Reynolds writes more Miles books going forward, and that Miles himself gets to finally appear in live-action in the sequel to
Spider-Man: Homecoming
(more on that one later in the Movies section, of course.)
Don't mess with any Spidey on my watch, but especially not this dude.
2. Marie Lu, Warcross
If I'd read the
Legend
trilogy a little more on time when they'd first come out (except for the third book, I was all caught up by then), or if I'd had this blog at that point in time, all those Marie Lu books would've made the Pinecone Awards for sure. The only one I can think of that wouldn't have (and didn't) is
The Midnight Star
, but this year, Lu returned to the
Legend
universe with an all-new story that manages to outdo all her previous efforts in the action department, and that's saying something. The start of a duology (and again, I'm really bummed that duologies are the big thing, especially with such a story as great as this one!),
Warcross
is the colorful, diverse, romantic video-game story to end all video-game stories. Yes, even
Ready Player One.
It's virtually impossible to put down, and I reiterate from my initial review: do not read this book while caffeining up, or else you may just risk a heart attack. You've been warned.
Really, the only problem I had with this one was how hard to read the title was. The colors, though!
1. Ava Jae, Into the Black
I loved
Beyond the Red
well enough - in fact, I think that book was the
Star Wars
-
Game of Thrones
hybrid that
Carve the Mark
should've been but oh so very much wasn't, for too many reasons - but when Ava Jae finally dropped
Into the Black
late this year, I was lucky enough to win a Twitter contest in which they sent me a signed ARC. Turns out I was pretty well-chosen as a reader for this book, in which Jae not only builds on the royal intrigue from their debut, not only includes sweet family dynamics for Eros, but also - making me extra-happy - confirms on the page that Eros is bi. Reading about his struggles with self-acceptance and being out in a society that needs to work a shit-ton on its queer-inclusiveness resonated strongly with me. For Eros' arc alone,
Into the Black
wipes the floor with the rest of 2017's fine literature. I'll chalk this up along with the likes of Keiynan Lonsdale's coming-out post and the trailer for
Love, Simon
and pretty much all the bibliography of Adam Silvera - and of course my dear friend Harry at work, whom you should all meet someday if you ever pop by the Stanford Bookstore - as inspirations for me to (hopefully) make 2017 the last full year in which I'm closeted at home.
Still waiting for Book 3 to give us a blue cover to complete the bi-colors theme the first two have started. 💗💜💙
MOVIESHonorable Mentions:
* Get Out* Dunkirk* Kong: Skull Island* Guardians of the Galaxy, Vol. 2* Wonder Woman
Special Salute: Power Rangers
I was never a big fan of this franchise as a kid, and all through the run-up to this latest live-action reboot, I was rather decidedly meh on it, even with the promise of a tone akin to two of my favorite movies -
Chronicle
and
The Amazing Spider-Man.
And then along came, in addition to the already-in-place racial diversity among this movie's Ranger team, some unexpected diversity in the form of an autistic Blue Ranger and a queer Yellow Ranger, and I knew right then I owed it to myself to watch this movie. Though neither Billy nor Trini fits me perfectly in terms of matching my autism or my queerness, respectively, they match enough for me to truly appreciate them. For these two, especially (and for Elizabeth Banks' delightfully campy performance as Effie Trinket's Evil Twin, Rita Repulsa), I'm going to give
Power Rangers
, as B-grade as it was for me (really, its tone oscillated enough to give me a bit of whiplash at times), the Special Salute Pinecone Award.
Lionsgate, Saban, you better give this movie the bloodydamn sequel it deserves.
5. Thor: Ragnarok
In which our Asgardian friends finally get to cut loose. The third time was truly the charm for the
Thor
series, for the first movie was a little too melodramatic at times and the second was utterly unmemorable for me. But going a
Guardians of the Galaxy
-style route, heavy on the classic rock and wall-to-wall humor (maybe a little too much so at times with the latter because one or two of the jokes was ill-timed at best) and demonstrating incomparable directing skill and on-point critique of Western imperialism on Taika Waititi's part (and now I need to watch more of his previous movies too, because I've heard so much good stuff about them!) proved to be only to the benefit of
Ragnarok
, even if the very point of the movie was to build up to an unstoppable apocalypse.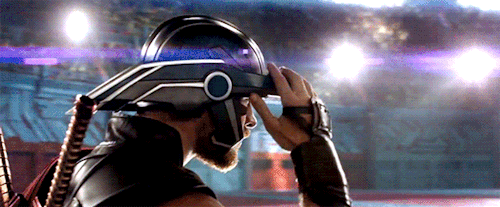 Proposal: Based on this movie alone, Taika Waititi gets to direct the Red Rising movie. You're welcome. Obviously.
4. Logan
Another threequel from one of the more contested sections of a popular superhero film franchise that exceeded expectations this year, especially since its predecessors (
The Wolverine
and especially the terribad
Origins: Wolverine
) were nothing special. James Mangold's R-rated swan song for Wolverine, though, is primed to shred all your feels. Even as it highlights the importance of family,
Logan,
by subjecting said family (and others) to the terrors of having to constantly be on the run from lethal agents out to get you just 'cause they can, is an absolute heart-render of a movie, one that'll leave you gasping and crying by the time it's over. The feels are just that
Amazing Spider-Man-
grade. You've been warned.
Another bonus to this movie, of course, is the lovely desert cinematography. No piss-yellow shots here, it all looks real.
3. Spider-Man: Homecoming
I didn't think it was possible that Tom Holland could well and truly swing out of Andrew Garfield's shadow until this movie, his first solo outing as Spider-Man (not without a pretty heavy assist from Iron Man, though) came along. I still love
Garfield's two movies more than any other, but
Homecoming
is just so much fun that it's hard to reject it for any good reason. Increasing the cast diversity to more accurately reflect a big-city environment, giving Peter some strong and meaningful friendships where previous adaptations often failed to do so, and being loaded with retro references to the 80s and the Ramones and more? What's not to love? Well, there's one part that's pretty love-to-hate: Michael Keaton as the Vulture, the second-best MCU villain as far as I'm concerned - yes, beating even Loki, but not Ultron. Nobody beats James Spader as Ultron, but Keaton's performance here was the closest the MCU's ever come to meeting that high-water mark.
Also a high-water mark: that nifty Stark-designed suit.
2. Coco
My best friend loves this movie to death because of how accurate it is to Mexican culture, especially re: Día de Muertos and how Mexican family dynamics work. And because it's just plain a damn good movie, meeting the usual Pixar standard and then some. Extraordinarily well-researched, beautifully designed, and filled with surprisingly timely themes - and of course boasting an all-Latinx cast, as well it should -
Coco
has no problem taking its place deservedly high up in the Pixar pantheon, and yet it still feels like it's not getting the respect it deserves. For Miguel's sake, for Dante's and Héctor's, you gotta watch this movie yesterday, especially now that they finally removed that silly
Frozen
short that had no business being there in the first place.
Miguel, te mereces el mundo.
1. Star Wars: The Last Jedi
Reylo feels! Leia feels! Vulptices and Porgs!
The Last Jedi
gives us all of these and more in one of the finest films of the entire
Star Wars
saga by far. It's subversive, but no less fun for it, and never once loses its sense of wonder even as it shows a darker side to some of our favorite heroes. It's also loaded with at least two or three of the most hands-down killer awesome
Star Wars
scenes EVER. I once again leave you with Speedy's words for that one scene that silenced the soundtrack for at least ten whole seconds: "I. AM. DECEASED!"
I'm ready for my close-up, Mr. Johnson.
Ben. Let me have the spotlight for once.
TVHonorable Mentions:
* Zoo* Timeless* The Good Doctor* Trial and Error* Fear the Walking Dead
Special Salute: Teen Wolf
After six seasons and 100 episodes,
Teen Wolf
came to an end this year. I didn't discover it until about halfway into its initial run, around the time Season 4 was happening - and by that time I'd already begun work on the
Red Rain
series, and noticed a lot of stylistic similarities between my book and this show. Jeff Davis and I both being seriously inspired by Joss Whedon and
Buffy the Vampire Slayer
really helped.
Teen Wolf
is a show that's made me laugh a lot (thanks, Stiles, and you too, Derek, I suppose), made me cry too (again, thanks, Stiles, and also thanks, Scott and Allison), and given me over to some pretty blistering rage (thanks, Nogitsune and Kate and Gerard and, from time to time, Jackson.) All my
Red Rain
characters are pretty well-versed in its mythology now, for good reason - hell, Alex resembles Scott enough that he could get a double-armband tattoo for cosplay purposes. And of course I'll always point to this show as the star-maker for my generation's Tom Cruise, Dylan O'Brien. To
Teen Wolf,
I now say
ave atque vale.

But really, though. Stiles. I could fill this entire page with GIFs of this guy.
5. The Good Place
"Holy motherforking shirtballs" pretty much accurately sums up
The Good Place
after the end of its first season, and now, at the end of the year, after the first half or so of the second. No surprise there, given that the series not only lampoons religion and the afterlife, but also high-stakes serialized thrillers in the vein of
Lost
, especially. I'm not about to spoil the surprises for those of you who haven't seen a single episode, but if you haven't, you need to immediately reevaluate every choice you've made thus far in life, then start watching every single side-splitting chapter
The Good Place
has to offer.
You said it, Eleanor.
4. The 100
A consistent staple in the Pinecone TV rankings,
The 100,
unsurprisingly, becomes the first three-time winner with the fourth season taking the show to truly apocalyptic and morally-challenging heights. Forget
Game of Thrones
, and especially forget
The Walking Dead
-
The 100
is the dark fantasy we all need to be watching every time they air a new episode. Even though the writers sometimes get a little overboard with the sheer lack of good luck our good guys have, and even though the fanbase is still a little plagued with toxicity because of all the shipping and other assorted controversy that led to widespread cancellation campaigns during Season 3, especially,
The 100
is still one of the CW's best shows, if only for the fact that it doesn't quite fit the network's formula. Any of them.
Well, of course, Clarke. Stop trying to pretend we shouldn't have any.
3. Stitchers
It's absolutely unfair that this supremely underrated Freeform series isn't getting a fourth season. I mean, three seasons were all well and good, especially for a show that's consistently been responsible for some of TV's biggest feels-bombs you never even heard about. But ending the third and final season on that Wham Line that will never get resolved now? Freeform, you done screwed up. At least you still have
Beyond
and
Shadowhunters
, but your lineup just won't be the same without the wonderful presence of Camille, Linus, Cameron (God, Cameron, what a guy to want to be), and Kirsten, whom I still maintain as autistic in my headcanon because she has a lot of symptoms in common with me. I dare you to watch
Stitchers
and come away thinking autistic and emotional are mutually exclusive. I. Bloody. Dare. You.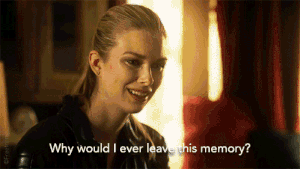 *cries in fanboy* Stop asking us these unanswerable questions, Stretch!
2. Arrow
Unexpectedly, this year, the Arrowverse mothership has jumped up and become my favorite of the four shows currently airing, and it's petty to say this, but it's largely because this is the only one of the shows where I'm A) super invested in the shipping, and B) my ship is actually sailing. (Olicity FTW!) Not only that, but between the later stages of
Arrow
's fifth season (culminating in a truly diabolical cliffhanger, the most Aveyardian in the show's history, and that's including the infamous midseason finales of Season 3 and the barely-canon, if Stephen Amell's jokey comments are anything to go by, Season 4) and the first stages of the sixth, the show finally resurged back to the first two seasons' stellar quality level. Bringing in Michael Emerson to basically play the dark side of Harold Finch was a massive help, as was quietly removing Malcolm Merlyn from the equation (as quietly as you can get when John Barrowman is about the loudest guy in the room, every room.) Of all the Arrowverse shows, this is the one I'm most looking forward to seeing return in January, and I'm also disappointed that we don't get
Legends
back till February...but that's neither here nor there. What's here, though, is Ollie and Dig and Felicity and, sometimes, Thea. And our new friends Rene and Curtis, especially. Though there's always room for the rest of this season to plunge in quality as Season 4 seriously did, my sincere hope is that Season 6 really bucks the rest of the Arrowverse's unfortunate trends.
Felicity Smoak, my fave. I paid for a beautiful photo op with Emily Bett Rickards for a reason!
1. Agents of SHIELD
The year 2017 gave us the second and third storyline "pods" of
Agents of SHIELD
Season 4,
LMD
and
Agents of HYDRA
, and eventually, the opening to the planet-breaking Season 5, delayed as it was due to ABC and Marvel's highly ill-advised experiment with
Inhumans.
Sorry, but this show's already home to the most stannable Inhumans, Daisy Johnson and Yo-Yo Rodriguez, and all others simply pale in comparison. (Quite literally too, since a lot of
Inhumans'
leads were white as it gets.) And while our favorite characters deal with threats that would've seemed unimaginable back when this show was getting its start as a Marvel-ized
X Files,
the writing jumps so far out of the atmosphere in terms of thrills and addictability that there's really no contest. Though
Fringe
is still my favorite show ever,
Agents of SHIELD
is rapidly rising up to be the first genuine threat to
Fringe's
stranglehold on that throne since
The Flash
began. For proof, look no further than Season 5's first episode, "Orientation: Part I" (not so much "Part II," but the
Lost-
meets-
Alien
"Part I" for sure), and also to Season 4, Episode 15, the conclusion of the
LMD
pod in "Self Control," an episode so intense I almost had to bite my fists just so I wouldn't wake up the rest of the house with screaming reactions. For the first time, the top spot in the TV Pinecones goes not to
The Flash
, but instead to the most underrated, underappreciated, unbelievably inventive show on TV.
Yeah, pretty much. (Credit to the artist for this one.)
MUSICHonorable Mentions:* Arcade Fire, "Chemistry"* Imagine Dragons, "Walking The Wire"* K.Flay, "Blood In The Cut"* The Killers, "The Man"* Mark Mothersbaugh, "Planet Sakaar"
Special Salute: ChronoWulf, "Snow"
As Alex says in a recently published chapter of
Peppermint
, "ChronoWulf...because who else would I club to?" Maybe I'm a little prejudiced giving my buddy Koda the Special Salute here, but THIS SONG THOUGH. The aesthetic here is truly something else - a gently heart-twanging guitar intro before the beat drops and the rap starts. This is pretty much the song Alex is listening to in that "club to" moment, because of how much he connects to the lyrics - as do I, of course. Self-destructive though the lyrical imagery may be, it plays out sounding more like a creator getting his negative impulses out in a socially acceptable way - a bit of sublimation to which I can relate all too well. Spend even a minute talking with Koda and you'll see just how much of a genius this guy is, because his brain works on a level most of us regular old humans can't comprehend. Just wait till his song "Another Place" comes along. Though he didn't drop it this year, I've been lucky and honored enough to get to hear a demo of that song, and also to know the concept Koda's got in mind for the video. When he makes this video, you'll never be able to unsee it, and it will make you cry
Amazing Spider-Man
-grade tears and that's a promise.
"I can't be a savior, no, 'cause I can't even save myself..."
5. Sir Sly, "High"
Featured, as I remember, on an episode of
Lucifer
where Luci himself found his way to a pot farm and started co-opting the business for himself for a second or two, this song from a band I'd never heard of before this year was the comeback hit Foster the People should've had, but didn't. (Doesn't help that Foster the People's actual comeback this year left me feeling whelmed at best.) "High" is a song that's tailor-made for chair-dancing in the driver's seat of your car, as I've often done to the amusement of other Starbucks patrons arriving around the same time I do. No seriously, if nothing else, this song is absolutely perfect for reenacting Baby's moves in the opening scene to
Baby Driver.

"Feels good for the first time in a long time now!"
4. St. Vincent, "Los Ageless"
I don't think I could ever love a St. Vincent song more than "Paris Is Burning" (part of the official soundtrack to my fourth
Red Rain
book,
Black Mirror
) or my first St. Vincent song, "Digital Witness" (part of the soundtrack to my
Mark of the Spider-Man
crossover fanfic with
Elementary, Person of Interest,
and
Deadpool.
) I have yet to find a place to use "Los Ageless" on one of my soundtracks (perhaps
Orange Crush?
), but as the most logical spiritual successor to "Digital Witness" St. Vincent could give us, you know I'm going to stuff this social-commentary-heavy jam into all your heads as part of the price for listening to my weird-ass Spotify playlists.
"In Los Ageless, the waves, they never break
They build and build until you don't have no escape
But how can I leave?"
3. Linkin Park, "One More Light"
One of the last of the great Linkin Park songs, "One More Light" and its message of being there for those who are suffering resonates too damn well in the wake of Chester Bennington's suicide. It's now so tragic that this album got such a drubbing from critics and fans alike - sure, it's not really stylistically compatible with Linkin Park - but to think that perhaps that negativity was a factor in Bennington's terrible final decision is all but unbearable. Good luck listening to this song, ever, without tearing up. If you somehow manage to do so, it's a sign that you're soulless and need to get that fixed ASAP.
"Who cares if one more light goes out?
Well, I do."
2. Arcade Fire, "Everything Now"
Back to a more positive musical realm here, the title track and lead single of Arcade Fire's long-awaited fifth album is a satirical take on consumerism and modern life, and is undeniably way up there on the list of best bops of the year. Getting a lot of comparisons to ABBA, and with Daft Punk's Thomas Bangalter fueling the disco-esque production to a degree even "Reflektor" didn't anticipate, the biggest kicker of all in this song is that bassline, one of those that makes me, more than ever, want to master the bass. Is it too late? Nah, it's never too late, though it's definitely too late to assume that me having "Everything Now" will give me the happiness I so desperately need.
"And every film that you've ever seen
Fills the spaces up in your dreams!"
1. Imagine Dragons, "Believer"
Holy bloodydamn goryhell. Imagine Dragons' return, the lead single for their third album
Evolve
, truly lived up to that album's title while also retaining the band's genre-busting sonic core. Building on the style of that underappreciated song "Gold" from
Smoke + Mirrors
(which rightly won a Pinecone in 2015), "Believer" is uplifting without being preachy, hellishly distorted while taking the listener to aural heaven, and one of the most organic blends of rock, pop, and hip-hop I've ever heard. Between this song, and the works of ChronoWulf and Twenty-One Pilots, this rock fanboy's been finding himself developing more of a taste for the stylings of hip-hop in general. "Believer," with its tongue-twisting lyrics, wide-ranging vocal demands, and flow that freely accelerates and decelerates on a dime as a counterpoint to the uniform rhythm of its digitized backbeat, is also a massive challenge to sing successfully - a challenge I can't meet as I type this while still fighting through the nasty cold that's plagued me since the day after Christmas, but in the New Year, I'm hoping that'll change again for the better.
"But they never did, ever lived, ebbin' and flowin'
Inhibited, limited, till it broke open
And rained down, it rained down like...
PAIN!"
And for this year, so endeth my annual awards. This time next year, here's hoping for a few of my old faves to jump back up in the rankings again. I'm looking at you,
Flash
and
Supergirl
, especially.
Till next time, Pinecones...
#FeedTheRightWolf
Remember: Denis Leary is always watching. Always.