Joan Didion Essay About New York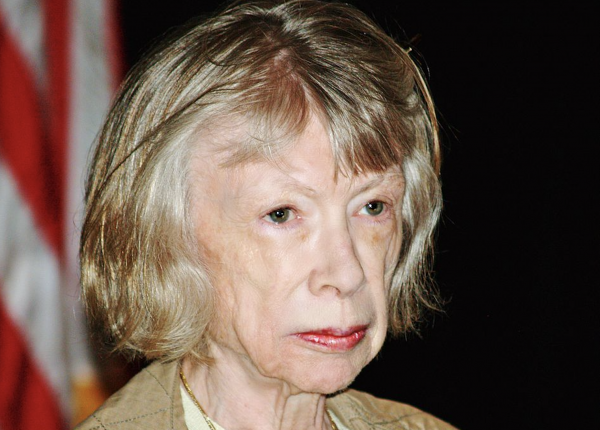 Image by David Shankbone, via Wikimedia Commons
In a classic essay of Joan Didion's, "Goodbye to All That," the novelist and writer breaks into her narrative—not for the first or last time—to prod her reader. She rhetorically asks and answers: "…was anyone ever so young? I am here to tell you that someone was." The wry little moment is perfectly indicative of Didion's unsparingly ironic critical voice. Didion is a consummate critic, from Greek kritēs, "a judge." But she is always foremost a judge of herself. An account of Didion's eight years in New York City, where she wrote her first novel while working for Vogue, "Goodbye to All That" frequently shifts point of view as Didion examines the truth of each statement, her prose moving seamlessly from deliberation to commentary, annotation, aside, and aphorism, like the below:
I want to explain to you, and in the process perhaps to myself, why I no longer live in New York. It is often said that New York is a city for only the very rich and the very poor. It is less often said that New York is also, at least for those of us who came there from somewhere else, a city only for the very young.
Anyone who has ever loved and left New York—or any life-altering city—will know the pangs of resignation Didion captures. These economic times and every other produce many such stories. But Didion made something entirely new of familiar sentiments. Although her essay has inspired a sub-genre, and a collection of breakup letters to New York with the same title, the unsentimental precision and compactness of Didion's prose is all her own.
The essay appears in 1967's Slouching Toward Bethlehem, a representative text of the literary nonfiction of the sixties alongside the work of John McPhee, Terry Southern, Tom Wolfe, and Hunter S. Thompson. In Didion's case, the emphasis must be decidedly on the literary—her essays are as skillfully and imaginatively written as her fiction and in close conversation with their authorial forebears. "Goodbye to All That" takes its title from an earlier memoir, poet and critic Robert Graves' 1929 account of leaving his hometown in England to fight in World War I. Didion's appropriation of the title shows in part an ironic undercutting of the memoir as a serious piece of writing.
And yet she is perhaps best known for her work in the genre. Published almost fifty years after Slouching Toward Bethlehem, her 2005 memoir The Year of Magical Thinking is, in poet Robert Pinsky's words, a "traveler's faithful account" of the stunningly sudden and crushing personal calamities that claimed the lives of her husband and daughter separately. "Though the material is literally terrible," Pinsky writes, "the writing is exhilarating and what unfolds resembles an adventure narrative: a forced expedition into those 'cliffs of fall' identified by Hopkins." He refers to lines by the gifted Jesuit poet Gerard Manley Hopkins that Didion quotes in the book: "O the mind, mind has mountains; cliffs of fall / Frightful, sheer, no-man-fathomed. Hold them cheap / May who ne'er hung there."
The nearly unimpeachably authoritative ethos of Didion's voice convinces us that she can fearlessly traverse a wild inner landscape most of us trivialize, "hold cheap," or cannot fathom. And yet, in a 1978 Paris Review interview, Didion—with that technical sleight of hand that is her casual mastery---called herself "a kind of apprentice plumber of fiction, a Cluny Brown at the writer's trade." Here she invokes a kind of archetype of literary modesty (John Locke, for example, called himself an "underlabourer" of knowledge) while also figuring herself as the winsome heroine of a 1946 Ernst Lubitsch comedy about a social climber plumber's niece played by Jennifer Jones, a character who learns to thumb her nose at power and privilege.
A twist of fate—interviewer Linda Kuehl's death—meant that Didion wrote her own introduction to the Paris Review interview, a very unusual occurrence that allows her to assume the role of her own interpreter, offering ironic prefatory remarks on her self-understanding. After the introduction, it's difficult not to read the interview as a self-interrogation. Asked about her characterization of writing as a "hostile act" against readers, Didion says, "Obviously I listen to a reader, but the only reader I hear is me. I am always writing to myself. So very possibly I'm committing an aggressive and hostile act toward myself."
It's a curious statement. Didion's cutting wit and fearless vulnerability take in seemingly all—the expanses of her inner world and political scandals and geopolitical intrigues of the outer, which she has dissected for the better part of half a century. Below, we have assembled a selection of Didion's best essays online. We begin with one from Vogue:
"On Self Respect" (1961)
Didion's 1979 essay collection The White Album brought together some of her most trenchant and searching essays about her immersion in the counterculture, and the ideological fault lines of the late sixties and seventies. The title essay begins with a gemlike sentence that became the title of a collection of her first seven volumes of nonfiction: "We tell ourselves stories in order to live." Read two essays from that collection below:
"The Women's Movement" (1972)
"Holy Water" (1977)
Didion has maintained a vigorous presence at the New York Review of Books since the late seventies, writing primarily on politics. Below are a few of her best known pieces for them:
"Insider Baseball" (1988)
"Eye on the Prize" (1992)
"The Teachings of Speaker Gingrich" (1995)
"Fixed Opinions, or the Hinge of History" (2003)
"Politics in the New Normal America" (2004)
"The Case of Theresa Schiavo" (2005)
"The Deferential Spirit" (2013)
"California Notes" (2016)
Didion continues to write with as much style and sensitivity as she did in her first collection, her voice refined by a lifetime of experience in self-examination and piercing critical appraisal. She got her start at Vogue in the late fifties, and in 2011, she published an autobiographical essay there that returns to the theme of "yearning for a glamorous, grown up life" that she explored in "Goodbye to All That." In "Sable and Dark Glasses," Didion's gaze is steadier, her focus this time not on the naïve young woman tempered and hardened by New York, but on herself as a child "determined to bypass childhood" and emerge as a poised, self-confident 24-year old sophisticate—the perfect New Yorker she never became.
Related Content:
Joan Didion Reads From New Memoir, Blue Nights, in Short Film Directed by Griffin Dunne
30 Free Essays & Stories by David Foster Wallace on the Web
10 Free Stories by George Saunders, Author of Tenth of December, "The Best Book You'll Read This Year"
Read 18 Short Stories From Nobel Prize-Winning Writer Alice Munro Free Online
Josh Jones is a writer and musician based in Durham, NC. Follow him at @jdmagness
"I was making only $65 or $70 a week then, so little money that some weeks I had to charge food at Bloomingdale's gourmet shop in order to eat, a fact which went unmentioned in the letters I wrote to California. I never told my father that I needed money because then he would have sent it, and I would never know if I could do it by myself."
What sounds like another disheartening confession from an overeducated, underemployed millennial is actually Joan Didion, writing in 1967. In an essay titled "Goodbye to All That," Didion lays bare her reasons for leaving New York after spending eight years here while in her 20s. She writes of the pull exerted by a city depicted so romantically in countless songs, movies and books, of meeting and sleeping with strangers at Greenwich Village house parties, and gawking at perfectly coiffed socialites on Madison Avenue while not really caring how she looked herself. But, Didion concludes, her life in New York was frivolous, idealistic, not really real. New York is for the young, and "it is distinctly possible to stay too long at the fair." 
"Goodbye to All That" is also the title of a recently released anthology by Sari Botton, another writer at first enchanted, and later unfulfilled by New York City. Botton suspected her sentiments were not unique, so she asked some of her writer friends to pen essays on the topic of loving and leaving New York. The result is a hilarious, tragic and painfully familiar sequence of tales extolling this maddening city's charms and lamenting its letdowns.
Botton confided that while the compilation has garnered an incredible amount of admiration, it has also received a potentially equal amount of scorn. So last Monday, Botton staged a reading at the Housing Works Bookstore Café, and invited a handful of writers who weren't included in the book–-and had more mixed views of New York-–to voice a rebuttal of sorts.
So after comedy writer Elissa Bassist described watching horror movies incessantly because they made her life in New York look tolerable by comparison, BuzzFeed editor Isaac Fitzgerald movingly explained that family was his reason for returning to New York from San Francisco just a few days prior. Jon-Jon Goulian read aloud a letter from a friend arguing that "house parties in LA blow doors off house parties in New York," particularly owing to the magical, centrifugal middle ground that is the backyard patio. Everywhere he moved was a hundred times better than New York, a claim he made despite constantly returning to the city. Jezebel founder Anna Holmes rehearsed a biting listicle contrasting the things she loves about New York (the Times, the Brooklyn Bridge, the skyline) with those she doesn't (the Post, tourists on the Brooklyn Bridge, not being able to see stars).
They came from small towns and suburbs, drawn not just by the glittering promise of the city that never sleeps, but also by the prospect of living that old ideal of the New York City writer: tapping out stories in a cramped apartment and wine-fueled arguments in the wee hours with (finally) your intellectual equals. Allen Ginsberg! Woody Allen! Carrie Bradshaw! These are writers after all, and New York is the epicenter of the English-speaking publishing world.
But eventually each one arrives, some slowly, some quickly, at the revelation that New York has reneged on its promise, that the things that pulled them here-–foreign films, Central Park, fashion magazines–-had been outweighed by the starker realities of serial dating, fourth floor walk-ups, and unpaid internships. They leave for financial reasons or are lured away by relationships, to places like Los Angeles and Iowa, reluctantly, exhaustingly or blissfully.
Allen Ginsberg's apartment
Some recite a variation of the tired eulogy for the good old New York, decrying the chain store-ification of Manhattan and reminiscing on the wonders of Needle Park. But most aren't old enough to remember that New York. Their New York is one that will be recognizable to today's readers, one measured in booms and busts, punctuated by disasters and rebirth. And despite the omnipresent problem of money, there's never a sense of failure in these writer's departures. Indeed many of the contributors have achieved some degrees of fame and fortune. No, the common thread here seems to be disillusionment.
Savvy readers will point out that Joan Didion has returned to New York since writing her farewell letter. Botton is aware of this fact, and concedes, "if I win the lottery, you can bet the first thing I'll do is get an apartment here as well."
Get in touch with the author @alexmcqw.
book review, literary events, literature